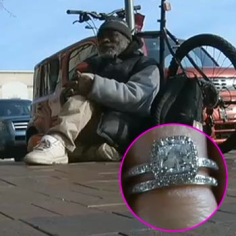 A homeless man in Kansas City, Mo., made national headlines more than a week ago when he returned a valuable platinum and diamond engagement ring accidentally dropped into his cup of change by a woman offering some extra cash. Now, hundreds of donors have contributed more than $16,000 to a page on GiveForward.com to help Billy Ray Harris get his life back on track.
'Unintended donation'
KCTV first did a story on the unintended donation Feb. 9. Sarah Darling had put her engagement ring in her change purse because it was bothering her finger. A chance encounter with Harris on the street led Darling to give the man her loose change. It was only a day later that she realized her engagement ring was missing. When she came back to Harris on the same street, he still had the ring and gave it back to her.
The New York Daily News reveals when the woman and her husband returned, they gave the homeless man all the cash she had on her — around $40 to $60. Then Bill Krejci, who is a web designer, was inspired by some media outlets' websites where people asked how they could help. Enter GiveForward.com.
'Character trait'
For the next 90 days, anyone can donate money for Harris. The homeless man cited his reverend grandfather, who raised him since he was 6 months old, as the reason for his character trait that returned the ring to the woman. Individual donations from as little as $5 up to $500 have poured into GiveForward.com for Harris. The goal was the raise $1,000 for Harris in three months. Instead, more than $16,000 has been given to the cause in just a few days.
MyFoxLubbock.com reports Edwin Harris, Billy Ray's older brother, wants his sibling to come home to Lubbock, Texas. The brothers lost touch and have tried to find each other over the past 27 years.
Were you touched with Billy Ray Harris' story of honesty and hope for a new life? Tell us about the most recent good deed that you've done!
Source: William Browning, Yahoo News
Image: Radar Online