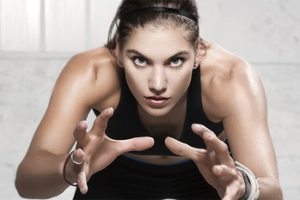 Soccer star Hope Solo has tested positive for the diuretic Canrenone, a banned substance, the U.S. Anti-Doping Agency said Monday.
The 30-year-old goalkeeper on the United States team accepted a public warning and says the positive test was purely an accident, NBC reports. She will not be prohibited from competing in the Olympic Games in London later this month.
"I took a medication prescribed by my personal doctor for pre-menstrual purposes that I did not know contained a diuretic," she said in a statement through U.S. Soccer.
"Once informed of this fact, I immediately cooperated with USADA and shared with them everything they needed to properly conclude that I made an honest mistake, and that the medication did not enhance my performance in any way," she said.  U.S. Soccer supported Solo and released a similar statement.
The goalkeeper took home a gold medal from the 2008 Beijing Olympics, danced her way to the semi-finals with Maksim Chmerkovskiy on Dancing with the Stars and bared (almost) all in last year's ESPN Body Issue.
What is your opinion about professional players taking prohibited or banned substances unknowingly? Should the USADA create stricter guidelines about this issue? Feel free to share your thoughts and opinions in the comment box below!
Source: People
Image: Bleacher Report