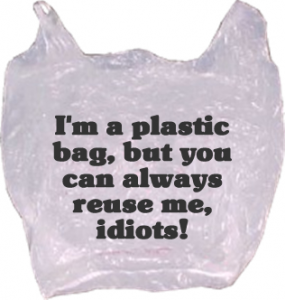 The European Commission is to publish proposals in the spring designed to reduce the number of plastic bags used in Europe each year. Most of the 15,000 people who took part in a public consultation favoured an outright ban – but what are the options?
Last year Italy became the first country in Europe to ban non-biodegradable single-use plastic bags. A number of countries have banned very thin plastic bags, including China, South Africa, Kenya, Uganda and Bangladesh – in Bangladesh's case, it was found that the bags had clogged up the drainage system, exacerbating deadly floods.
The Republic of Ireland introduced a charge of 15 euro cents (12p, 20 US cents) per bag in March 2002, which led to a 95% reduction in plastic bag litter. Belgium, Germany, Spain, Norway and the Netherlands are among the countries following Ireland's lead.
If shoppers stop using plastic bags, they must start using other kinds of bags, but there is no perfect solution. Stronger, heavier bags, whether made of fabric or plastic, have a bigger environmental impact than standard supermarket shopping bags. For instance, if a plastic bag is used just once, then a paper bag must be used three times to compensate for the larger amount of carbon used in manufacturing and transporting it, a plastic "bag for life" must be used four times, and a cotton bag must be used 131 times.
Paper bags have been the traditional shopping bag of choice in the US, but while these biodegrade in landfill, the UK Environment Agency study points out that they have a higher carbon footprint than standard plastic carrier bags. It also says the available evidence suggests paper bags are not generally reused, either as bin liners – a purpose for which they are not well suited – or for other purposes.
Source: BBC News
Image: Packaging Innovations