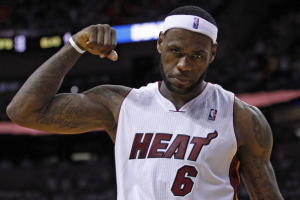 As if there was any question about who would win this award, LeBron James has been named the Most Valuable Player of the 2012-13 NBA campaign.
'None came close'
This is King James' fourth MVP award in the past five years and his second consecutive honor. While Kevin Durant, Chris Paul and Carmelo Anthony all had amazing seasons, none came close to attaining the level of excellence the Miami Heat superstar sustained. It showed in the voting, where James earned 120 of 121 first place votes, per the NBA's official release.
LeBron put together one of the finest performances of his career, averaging 26.8 points, 8.0 rebounds, 7.3 assists, 1.7 steals and 0.9 blocks over 76 games. He shot an incredibly efficient 56.5 percent from the field and 40.6 from beyond the arc—both new career highs.
'It definitely sucks'
James' efforts on defense certainly contributed to his valuation as the best player in the game today. He finished second behind Marc Gasol in balloting for the Defensive Player of the Year Award, garnering 14 first-place votes from the members of the media and analysts that vote.
He clearly wasn't happy about this result (via Michael Wallace of ESPN.com), saying, "It sucks. It definitely sucks, though, finishing second. Who wants to finish second?"
Regardless, James should be satisfied by beating out the rest of the league for this MVP award and positioning the Heat for another championship run.
Do you think LeBron James deserved his fourth MVP award? If not, who should have gotten it instead?
Source: Alex Kay, Bleacher Report
Image: Baller Status