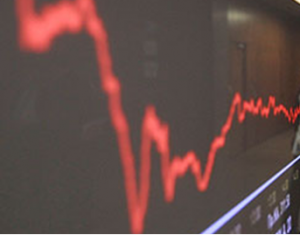 U.S. banks shares fell in late trading on Wall Street after ratings agency Fitch warned about their exposure to the eurozone crisis. Fitch said that if the crisis will not be resolved soon, shares of U.S. banks will continue to suffer.
In the last hour of trading, the Dow Jones fell sharply and closed 1.6 percent lower, with financial stocks absorbing the impact of the selloff.
Moody's, another rating agency, had downgraded 12 German banks. Major U.S. banks such as JP Morgan and Bank of America fell by 3.8 percent and by 3.3 percent respectively. After Fitch released its report mid-afternoon, investment bank Morgan Stanley dropped by 8 percent.
According to Fitch, the direct exposure of U.S. banks to the economical crisis in Portugal, Italy, the Irish Republic, Greece and Spain, was "manageable." Fitch even noted that they have been cutting these exposures for more than a year already. In general, banks do not give out information to the public about their exposures to individual countries. [Read more…]