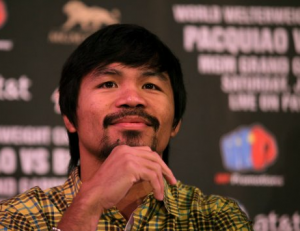 Manny Pacquiao won't be shopping with the stars ever again, as the homophobic boxing superstar has been banned from Hollywood's ultimate entertainment destination.
LA Weekly's Simone Wilson reports Pacquiao has been outlawed by the commercial center for his over-the-top anti-gay statements this week. While quoting Bible verses, the boxing star didn't just say he was against the homosexual lifestyle, Pacquiao stunningly divulged gay men should be "put to death" for their sexual crimes.
Management at the Grove quickly issued a statement explaining why the boxer has been officially forbidden from entering the star-studded shopping mecca: "Based on news reports of statements made by Mr. Pacquiao we have made it be known that he is not welcome at The Grove and will not be interviewed here now or in the future. The Grove is a gathering place for all Angelenos and not a place for intolerance."
Since then, it has come out that the original article attributed a quote to Pacquiao that he never said: Granville Ampong, the "conservative examiner" over at Examiner.com (a news website that lets just about anyone submit articles) now says Pacquiao never referenced the offensive passage taken from Leviticus 20:13, which states that "if a man lies with a man as one lies with a woman, both of them have done what is detestable. They must be put to death; their blood will be on their own heads."
Still, the prejudiced pugilist attempted to defend his position with media in the Philippines: "I only gave out my opinion that same sex marriage is against the law of God," he told ABS-CBN's Dyan Castillejo. "I'm not against gay people … I have a relative who is also gay. We can't help it if they were born that way. What I'm critical of are actions that violate the word of God."
Did Manny Pacquiao deserve to be banned from the Hollywood Mall? Tell us what you think!
Source: Yahoo News
Image: Global Grind