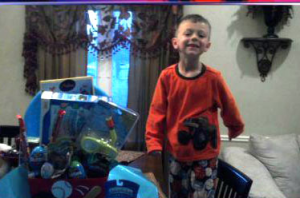 A 6-year-old New Jersey boy has died after being shot in the head by a 4-year-old playmate as their parents stood in the yard nearby, a local police chief said.
'Children accidentally shooting others'
Brandon Holt was pronounced dead at 5 p.m. Tuesday at Jersey Shore University Medical Center in Neptune, according to Toms River police Chief Michael Mastronardy. It was the second incident in the United States in recent days involving young children accidentally shooting others.
Brandon was playing in and around the 4-year-old's Toms River home on Monday evening when the younger child left the yard and went inside, police explained.
'Struck in the head'
"The 4-year-old … retrieved a rifle within the house, a .22-caliber rifle, came outside," Mastronardy told reporters earlier Tuesday. "… A shot went out and the 6-year-old was struck in the head."
The Atlantic County prosecutor's office is leading the investigation to determine whether charges will be filed in the case and, if so, against whom, Mastronardy said Tuesday night. This eastern New Jersey incident follows another fatal shooting days ago that also involved a 4-year-old boy, this time in Tennessee.
Why do you think are cases like this are increasing nowadays? Should charges be filed against the 4-year-old's parents? Feel free to share your opinion regarding this harrowing incident and what should be done to prevent it from happening again.
Source: Julia Talanova and Laura Batchelor, CNN
Image: New Jersey 101.5