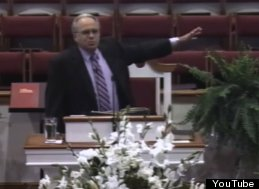 In a rant delivered just days after President Barack Obama's historic public support for same-sex marriage, the pastor, Charles L. Worley of Providence Road Baptist Church in Maiden, N.C., suggested rounding up all "queers and homosexuals" and quarantining them inside an electric fence.
"I figured a way to get rid of all the lesbians and queers," Worley told churchgoers on May 13. "Build a great big large fence—50 or 100 mile long—put all the lesbians in there. Fly over and drop some food. Do the same thing with the queers and the homosexuals and have that fence electrified so they can't get out. And you know what, in a few years, they'll die out. Do you know why? They can't reproduce!"
Worley's comments—while shocking—are sadly not uncommon for pastors in North Carolina, a state that voted overwhelmingly in favor of a constitutional amendment defining marriage "as solely between a man and a woman."
Earlier this month, Ron Baity, founding pastor of Winston-Salem's Berean Baptist Church and leader of Return America, said gay, lesbian, bisexual and transgender people should be prosecuted. Before the state's vote, Pastor Sean Harris of the Berean Baptist Church in Fayetteville instructed parents to use force if their kids start acting gay.
What do you think about Pastor Worley's viral anti-gay sermon? Feel free to voice out your opinions in the comment box below!
Source: Yahoo News
Image: Huff Post Gay Voices