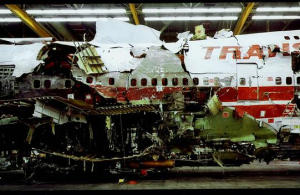 A handful of aviation experts, including a number of investigators who were part of the original probe of TWA Flight 800, have come forward in a new documentary to say evidence points to a missile as the cause of the crash off the coast of Long Island 17 years ago.
'Multiple eyewitness accounts'
The New York-to-Paris flight crashed July 17, 1996, just minutes after takeoff from JFK Airport, killing all 230 people aboard. In the weeks that followed, the plane was reassembled in a hangar from parts retrieved from the sea. But the cause of the crash was not identified immediately, and after authorities said the crash was caused by static electricity ignited fuel fumes, many skeptics cast doubt on the theory. Adding to the controversy were multiple eyewitness accounts of a fireball going up from the ground and hitting the plane before it went down, accounts which the FBI dismissed at the time.
The half-dozen investigators whose charges will be fleshed out in a documentary set to air July 17 – the anniversary of the crash – say they were never allowed to get at the truth. But they are confident a missile brought down the plane.
'Not allowed to seek answers'
The group is comprised of people who worked for the National Transportation Safety Board, TWA and the Airline Pilots Association, all of whom have since retired. All six say that the evidence shows the plane was brought down by a projectile traveling at a high speed.
Hank Hughes, a retired senior accident investigator for NTSB, said probers were not allowed to seek answers once the FBI took over the crime scene.
"We just want to see the truth come out," Hughes said. "We don't have hidden agendas. The only thing we are looking for is the truth."
The NTSB said it will review the petition.
Do you believe a missile brought down TWA Flight 800 in 1996? Feel free to share your speculations with us!
Source: Fox News
Image: MSN News