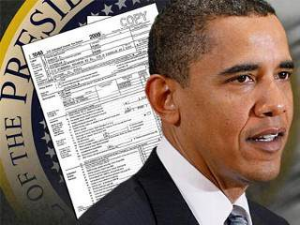 President Obama offered a new line of reasoning for hiking taxes on the rich on Thursday, saying at the National Prayer Breakfast that his policy proposals are shaped by his religious beliefs. Obama said that as a person who has been "extraordinarily blessed," he is willing to give up some of the tax breaks he enjoys because doing so makes economic, and religious sense.
"For me as a Christian, it also coincides with Jesus's teaching that for unto whom much is given, much shall be required," Obama said, quoting the Gospel of Luke.
Obama wants to allow the Bush tax cuts to expire for the richest Americans, and he has embraced the idea that wealthy Americans should not be paying a lower effective tax rate than those in the middle or lower classes. He has argued that those policies offer Americans a "fair shot" and increased equality, while implying that the policies favored by Republicans do not.
So what does the Bible say about taxes? Not too much. The Bible is silent on whether capital gains should be taxed at 15% or a higher rate. Ditto for other types of investment income. Payroll tax holidays are not mentioned.
The speech comes at a tricky time for a White House fully engaged in efforts to reelect the president. The administration was still doing damage control over a U.S. Department of Health and Human Services policy that forces religious schools and institutions that offer employee health insurance to cover FDA-approved contraceptives. The move has angered many Catholics in particular, who oppose the use of contraceptives on religious grounds, and view the policy as an intrusion on their religious liberty.
Source: CNN
Image: AQBiz Inc