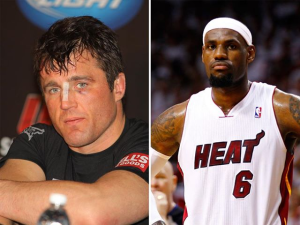 One week ago, UFC light heavyweight Chael Sonnen appeared on The Jim Rome Show on the cable network Showtime. In this installment of the popular sports talk show, Sonnen gave his candid opinions on Miami Heat superstar and four-time MVP LeBron James.
I think LeBron's a dork. He won one world championship, and that was in the Olympic Games. It's so aggravating to hear a title be called a "world champion" when it's only done in America…
'Walked up to my fiancee'
When asked by Bleacher Report what prompted him to call LeBron James a dork, Sonnen said:
His name being brought up prompted it…

He asked the UFC for tickets for my fight against Anderson Silva. We sit the guy front row… and he refuses to sign any autographs or take any pictures unless your cup size was later in the alphabet than he was able to learn.

…This guy walked up to my fiancee backstage and asks her if there's a Tic Tac in her blouse or if she was just happy to see him.

I had a UFC employee tell me he saw a mother wheel her handicapped child up to him to get a picture… LeBron took the wheelchair, wheeled it out of the way and kept walking…
'No challenge'
B/R: You versus LeBron James at UFC 200. Who wins the fight, and how?

CS: He'd run away faster than his hairline. His hair went North, his talents went South, and his mother went West.

B/R: Will we see you challenge LeBron to a fight any time soon?

CS: No challenge. It's happening. Next time I see him he will shake that little boy's hand, even if I have to break his arm off and take it to the boy.
Between Chael Sonnen and LeBron James, which athlete will you choose? Is Sonnen's total hate for James justified or not?
Source: Jeremy Botter | Bleacher Report
Image: Facebook