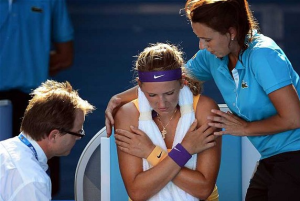 Victoria Azarenka is the No. 1 player in the world. She's incredibly solid and intimidating to play and has plenty of talent to get past opponents no matter how talented they are. But her tactics against American Sloane Stephens in the semifinals just seemed dirty.
'Missed shots'
Azarenka won the first set against Stephens handily on Thursday, beating the budding star 6-1 and putting her just a single set away from her second straight Aussie Open final. Her game looked sharp and Sloane looked drained and it seemed the effects of beating someone like Serena Williams might weight down the 19-year-old and keep her out of her first ever Grand Slam finals. But Stephens never quit. Azarenka was frustrated, yelling when she missed shots and slamming balls when she lost games. It wasn't the best look for Azarenka but it was understandable considering the pressure.
Azarenka, who had five match points lost because she couldn't seem to figure out how to close this one out, left the court up 5-4 with Stephens set to serve. Azarenka came out after 10 minutes. The match ended there with Azarenka taking the second set, but it was the quotes after that didn't add up. Officially Azarenka went with the trainers inside because of a chest and back injury, but her first quotes immediately showed that wasn't true.
'Falling apart mentally'
"I couldn't breathe, you know,'' Azarenka said on court after the win. "That game, you know, I just had chest pain, like getting a heart attack or something out there. I just needed to make sure it's okay cause I really couldn't breathe.''
Basically Azarenka admitted that she left the court because she was falling apart mentally and needed a minute to recoup. This would be the equivalent of a quarterback driving down the field in the AFC Championship, tied game, and calling a 10 minute timeout because he wasn't sure he could handle the moment.
From your point of view, was Victoria Azarenka playing dirty with Sloane Stephens during the Australian Open? Share your thoughts with us regarding this latest sports controversy!
Source: Shane Bacon, Yahoo Sports
Image: The Telegraph