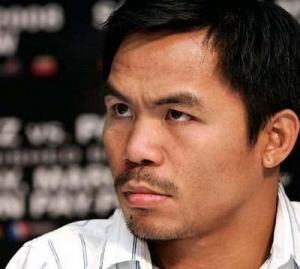 Manny Pacquiao's squeaky-clean image is in danger of taking a hit after the boxing star became embroiled in two public controversies in his native Philippines.
Pacquiao has been accused of housing a fugitive former politician under investigation in connection with a stolen car racket and, in a separate incident, could reportedly face two years imprisonment after tax officials started proceedings against him for contempt.
Pacquiao is a cult figure of epic proportions in the Philippines, where his fights literally bring the nation to a standstill and where he currently holds a place in Congress. Filipino tax chiefs have been angered by his alleged refusal to cooperate with an investigation into his financial affairs, and allege that he skipped a February 7 deadline to hand over details of his assets, account books and records of his earnings from fights against Antonio Margarito and Joshua Clottey.
Pacquiao's other brush with the headlines revolves around controversial Filipino figure and former head of the Presidential Anti-Smuggling Group, Mohammad "Bong" Akia. In an article for Minda News, journalist Edwin Espejo cited sources claiming Akia had taken refuge in Pacquiao's luxury residence while being hunted by police investigating his alleged sale of a stolen vehicle, one of 26 cars retrieved by police. Pacquiao responded by starting a libel action against the journalist – although Espejo has been publicly backed by the Philippines' leading media and civil rights group.
The recent controversy will likely do little to affect Pacquiao's status among the Filipino people, but it will do nothing to help his reputation in the political realm. Earlier this year he gained attention for having the fourth-worst attendance record of all members of the Philippines Congress.
Source: Yahoo News
Image: Inquirer