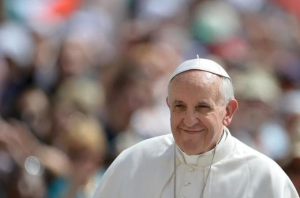 Pope Francis has called on world leaders to end the "cult of money" and to do more for the poor, in his first major speech on the financial crisis. Free market economics had created a tyranny, in which people were valued only by their ability to consume, the pontiff told diplomats in the Vatican.
'Increase transparency'
"Money has to serve, not to rule," he said, urging ethical financial reforms.
Meanwhile, the Vatican's own bank announced it would publish its annual report for the first time. The Institute for Works of Religion, which has been at the centre of various financial scandals in recent years, is to hire an external accountancy firm to ensure it meets international standards against money laundering. The bank would launch a website and publish its annual report in an effort to increase transparency, new president Ernst Freyberg said.
'Worship of the golden calf'
Pope Francis said life had become worse for people in both rich and poor countries, the BBC's David Willey in Rome reports. In a biblical reference, the pontiff said the "worship of the golden calf" of old had found a new and heartless image in the current cult of money. He added that reforms were urgently needed as poverty was becoming more and more evident.
People struggled to live, and frequently in an undignified way, under the dictatorship of an economy which lacked any real human goal, Pope Francis said. He made his remarks during an address to newly accredited ambassadors to the Holy See.
Do you agree with Pope Francis' view on money? And do you approve of the Vatican bank's move for more transparency?
Source: BBC News
Image: Al Jazeera