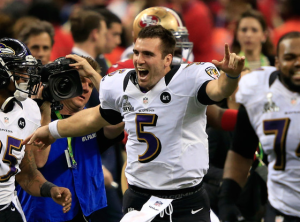 A watchdog group says it wants the Federal Communications Commission to act after CBS aired audio of Baltimore Ravens quarterback Joe Flacco using the F-word and another player using a curse word. Both incidents happened right after the Ravens defeated the San Francisco 49ers in Sunday's Super Bowl.
'Grossly offensive'
Entertainment Weekly said that CBS had instituted a time delay for the Super Bowl halftime show, featuring Beyonce, but it didn't have a time delay set up for its on-field live television feed.
On Sunday, the political website The Hill interviewed several obscenity experts on the eve of the game, about the prospects of the FCC fining any broadcaster for obscenity or profanity violations. That may not happen until FCC chairman Julius Genachowski resigns later this year. In its official guidelines, the FCC says, "obscene material is not protected by the First Amendment to the Constitution and cannot be broadcast at any time." Its rules for profanity are different.
"The FCC has defined profanity as 'including language so grossly offensive to members of the public who actually hear it as to amount to a nuisance.'  Like indecency, profane speech is prohibited on broadcast radio and television between the hours of 6 a.m. and 10 p.m.," the FCC policy reads.
'Jubilant quarterback'
The PTC doesn't have any issues with Flacco.
"No one should be surprised that a jubilant quarterback might use profane language while celebrating a career-defining win, but that is precisely the reason why CBS should have taken precautions," says PTC president Tim Winter.

"Joe Flacco's use of the f-word, while understandable, does not absolve CBS of its legal obligation to prevent profane language from being broadcast–especially during something as uniquely pervasive as the Super Bowl. The instance was aired live across the country, and before the FCC's designated 'Safe Harbor' time everywhere but along the East Coast."
Do you think Joe Flacco's F-bomb is worthy of a fine? Or is it the just-let-it-go type of profanity?
Source: Scott Bomboy, Yahoo Sports
Image: E! Online