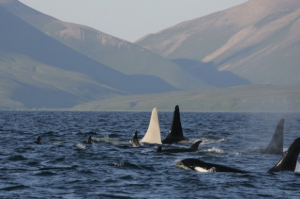 Scientists have made what they believe to be the first sighting of an adult white orca, or killer whale. The adult male, which they have nicknamed Iceberg, was spotted off the coast of Kamchatka in eastern Russia.
White whales of various species are occasionally seen; but the only known white orcas have been young, including one with a rare genetic condition that died in a Canadian aquarium in 1972.
The sightings were made during a research cruise off Kamchatka by a group of Russian scientists and students, co-led by Erich Hoyt, the long-time orca scientist, conservationist and author who is now a senior research fellow with the Whale and Dolphin Conservation Society (WDCS).
The cause of his unusual pigmentation is not known. The captive white orca, Chima, suffered from Chediak-Higashi syndrome, a genetic condition that causes partial albinism as well as a number of medical complications. It is possible that an attempt may be made to take a biopsy from Iceberg; but with researchers reluctant to do so unless there is a compelling conservation reason, they are hoping instead for closer observations including a detection of eye colour.
The project Dr Hoyt co-leads, the Far East Russia Orca Project, has pioneered visual and acoustic monitoring in the inhospitable Kamchatka seas, and has produced a number of papers on the communication of killer whales. This may lead to improved understanding of the animals' complex social structure, which includes matrilineal family clans, pods consisting of several families, and much larger "super-pods".
Should scientists take white killer whales captive or should they let them stay in the wild? Tell us what you think!
Source: BBC News
Image: Focusing On Wildlife