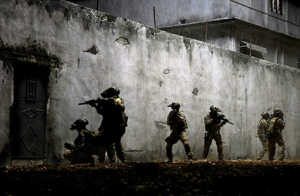 The U.S. Navy SEAL who shot and killed Osama bin Laden is speaking out for the first time since the May 1, 2011, raid on the al-Qaida leader's compound in Abbottabad, Pakistan.
'20-year requirement'
In an interview with Esquire, the former SEAL—identified as "The Shooter" due to what the magazine described as "safety" reasons—said he's been largely abandoned by the U.S. government since leaving the military last fall. He told Esquire he decided to speak out to both correct the record of the bin Laden mission and to put a spotlight on how some of the U.S. military's highly trained and accomplished soldiers are treated by the government once they return to civilian life.
Despite killing the world's most-wanted terrorist, he said, he was not given a pension, health care or protection for himself or his family. The problem seems to be that "The Shooter" left the military well before the 20-year requirement for retirement benefits.
'Best thing I've ever done'
The SEAL also gave his account of the historic raid, including the moment he pulled the trigger and shot bin Laden.
"In that second, I shot him, two times in the forehead," he told Esquire. "Bap! Bap! The second time as he's going down. He crumpled onto the floor in front of his bed. He was dead. I watched him take his last breaths. And I remember as I watched him breathe out the last part of air, I thought: Is this the best thing I've ever done, or the worst thing I've ever done? I'm not religious," he added. "But I always felt I was put on the earth to do something specific. After that mission, I knew what it was."
A spokeswoman for Esquire told Yahoo News that the magazine did not pay the SEAL for the interview.
What do you think of the statement of "The Shooter" regarding the health benefits that he stopped receiving? Feel free to comment on this issue and share your thoughts with us via the comment box below!
Source: Dylan Stableford, Yahoo News
Image: Pop Watch