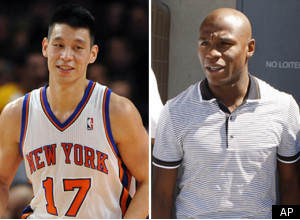 Floyd Mayweather is not going all Lin. The outspoken boxer who once told rival Manny Pacquiao, a Filipino, to "make some sushi rolls and cook some rice" has retained the title of heavyweight champion of insensitivity by claiming New York Knicks point guard Jeremy Lin is getting national attention for his race rather than his game.
"Jeremy Lin is a good player," Mayweather tweeted Monday, "but all the hype is because he's Asian. Black players do what he does every night and don't get the same praise."
Black players outscore Kobe Bryant every night? Black players who went undrafted rack up at least 20 points and seven assists in each of their first four career starts? Black players go from D-League DNPs to leading the Knicks to five straight wins?
Yes, Lin being Asian is a big part of the story. He's the first American-born player of Taiwanese or Chinese descent to play in the NBA. That's different, and therefore newsworthy. There would probably also be a lot of hype if, say, a black golfer came out of Stanford and started winning golf majors. Or if, just hypothetically, two black sisters from Compton dominated the world of tennis.
But "Money" probably never thought of that. Mayweather's comments are ignorant, but what's also disturbing is that there really aren't too many Asian voices to shout bigotry down.
Source: Yahoo News
Image: The Huffington Post