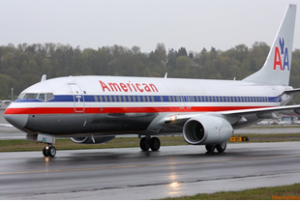 American Airlines customers will get a head start on holiday shopping with complimentary 30 minute shopping sessions at 35,000 feet. Beginning Nov. 23 and running through Jan. 2, 2012, customers traveling on American's Wi-Fi-equipped aircraft can enjoy 30 minutes of free access to special discounts and in-air exclusives at top retailers with the Gogo Fly & Buy Holiday Store.
Customers flying on American this season can also enjoy holiday Wi-Fi passes. Purchase a two-pass holiday pack for $14.95 and use the passes any two days until Jan. 3, or buy a three-pass holiday pack for $19.95 and use the passes on any three days through the same promotion period.
To check for Wi-Fi access onboard American, customers can visit www.aa.com/wifiwidget within 24 hours of departure. Once on the site, simply enter the flight number or select the departure airport from a drop down menu to find out if the flight is scheduled to be Wi-Fi-equipped. Customers can also look for the Wi-Fi symbol on their AA.com, mobile or airport-issued boarding pass to find out if the scheduled aircraft is Wi-Fi-equipped.
Wi-Fi is now available to customers flying within the continental United States on 260 aircraft – on all of American's Boeing 767-200 and select MD80 and 737 aircraft. In August 2008, American became the first U.S. airline to launch inflight Internet service. Since then, customers traveling onboard American have enjoyed onboard Wi-Fi service while flying throughout the United States.