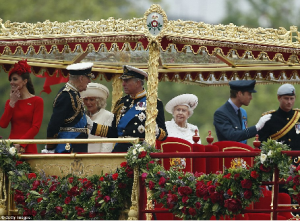 Braving a day of bone-chilling, rain-dampened weather, a crowd estimated by police at more than a million people lined the banks of the Thames on Sunday to acclaim Queen Elizabeth II as she marked 60 years on the throne with a royal river pageant of a kind last seen 350 years ago.
The stirring flotilla of 1,000 boats, highlight of a four-day holiday to celebrate the monarch's diamond jubilee, combined with the familiar miseries of the British climate to produce a vignette that some embraced as a demonstration in minor key of the character of her reign: steadfast determination.
The monarch, who is 86, and her husband, Prince Philip, 90, never donned coats through the hours they spent on the open deck of the royal barge as it made its way down the seven-mile course of the pageant, waving at crowds shouting "God save the queen" and hoisting a forest of plastic Union Jacks. Neither did they sit in the thronelike red velvet chairs set in the prow, apparently reluctant to claim a luxury not available to the onlookers.
With a TV audience of tens of millions at home and abroad, commentators called it the greatest public spectacle of the queen's reign. The flotilla was richly varied. A barge with pealing bells led off, followed by an array of "man-powered" craft, single-seat kayaks, dragon boats, Maori war canoes and jumbo Venetian gondolas. They were followed by 40 of the small boats that participated in the evacuation of 340,000 British and French soldiers from Dunkirk, France, in 1940, ahead of an armada of "working boats" that included tugs, fireboats and 19th-century steamboats.
Britain's only other diamond jubilee for a monarch was relatively recent. In 1897, Elizabeth's great-great-grandmother, Queen Victoria, then 78, achieved the landmark. But Victoria was frail and reclusive then, and sent her son, the future Edward VII, to represent her at a review of a fleet of British warships at Spithead on the English Channel coast.
What was your favorite part of the royal river pageant? Share your views with us!
Source: The New York Times
Image: The Daily Mail