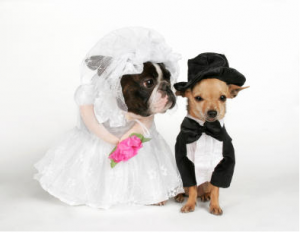 In the US and UK the market for clothing for pets is growing. But is it a sensible bit of indulgence or an inappropriate fad, asks Helen Soteriou.
There is a long tradition of very specific functional clothing for animals. Ancient Greek armies would put leather boots on the feet of their horses to protect them against snow. Police animals can be dressed in fluorescent covers. But now less functional clothing is becoming a boom industry, with boutiques offering all manner of exotic outfits. The pet clothing market is broadly divided between "practical" and "indulgent" items.
The RSPCA's position is that clothing is appropriate for animals in some circumstances. For old, bald, thin, tiny or ill dogs a layer to provide warmth or waterproofing in cold weather may be beneficial. The market ranges from highly indulgent products to what is termed "functional pampering", says David Lummis, senior pet market analyst at research firm Packaged Facts. You can find "therapy jackets" for pets with aches and pains including hip dysplasia and canine arthritis, he says.
But spending on pet clothes is not all functional and it's not all aimed at dogs. Carless stocks products ranging from sun visors which can be worn by cats that have sight problems to cashmere jumpers ideal for hairless cats who feel the cold. Some people are buying items only to momentarily dress up their animals for a photo shoot. But do cats and dogs really love the attention or does the clothing craze say more about the owners' needs?
The RSPCA warns owners that animals are not accessories and says that clothing should not restrict movement or affect their ability to relieve themselves.
Source: BBC News
Image: Best Dog Clothes