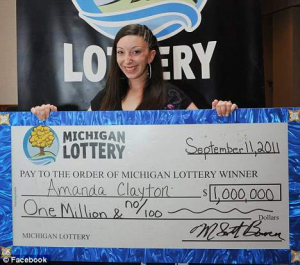 People love stories about someone winning the lottery and then giving the money away. They're less likely to feel fondly about Amanda Clayton, who won $1 million in the Michigan State Lottery but is still collecting food stamps.
"I thought that they would cut me off, but since they didn't, I thought maybe it was OK because I'm not working," Clayton, 24, told Local 4 news in Detroit.
Clayton, who says she owns two homes and a new car, receives $200 a month in food assistance from the state-issued Michigan Bridge Card, which is meant to benefit lower-income residents in the nation's eigth most economically depressed state.
And Clayton isn't embarrassed about living off the state even though she now finds herself in the nation's top tax bracket. "I mean I kinda do," Clayton told Local 4 when asked if she had a "right" to the government welfare. She certainly doesn't the fit the mold of other lottery winners we have told you about here at the Sideshow, including the number of repeat winners of the Georgia State Lottery, many of whom chose to donate their initial winnings to charity or family members in need.
Her story has already caught attention locally, where state Republican Rep. Dale Zorn has sponsored a bill preventing individuals like Clayton from taking state financial assistance.
Source: Yahoo News
Image: Mail Online