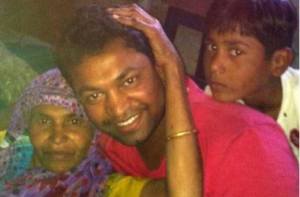 An Indian boy who lost his mother in 1986 has found her 25 years later from his new home in Tasmania – using satellite images.
Saroo was only five years old when he got lost. He was travelling with his older brother, working as a sweeper on India's trains. He fell asleep and had a shock when he woke up 14 hours later. Though he did not realise it at first, he had arrived in Calcutta, India's third biggest city and notorious for its slums. The little boy learned to fend for himself. He became a beggar, one of the many children begging on the streets of the city.
He was taken in by an orphanage, which put him up for adoption. He was adopted by the Brierleys, a couple from Tasmania. But as he got older the desire to find his birth family became increasingly strong. The problem was that as an illiterate five-year-old he had not known the name of the town he had come from. All he had to go on were his vivid memories. So he began using Google Earth to search for where he might have been born. Incredibly, he soon discovered what he was looking for: Khandwa.
Soon he made his way to Khandwa, the town he had discovered online. He found his way around the town with his childhood memories. Eventually he found his own home in the neighbourhood of Ganesh Talai. A neighbour said that his family had moved. Saroo was taken to meet his mother who was nearby.
Although she had long feared he was dead, a fortune teller had told Saroo's mother that one day she would see her son again. And what of the brother with whom Saroo had originally gone travelling? Unfortunately, the news was not good. "A month after I had disappeared my brother was found in two pieces on a railway track." His mother had never known whether foul play was involved or whether the boy had simply slipped and fallen under a train.
With memories of Slumdog Millionaire still fresh, publishers and film producers are getting interested in his incredible story.
Source: BBC News
Image: The Blaze
Vacation at the best private beachfront East Bali Villa – Villa Pantai Bali.