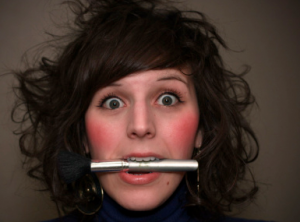 Girls sometimes have the tendency to overdo beauty regimens. Enhancement is good, but there is such a thing as too much of a good thing. Find out the top beauty mistakes that turn men off:
Eyeliner Overload
"The raccoon-eye makeup look à la Taylor Momsen is a big turnoff for me. All that eye shadow and eyeliner makes it look like she doesn't know how to use makeup, like a little girl." – Lawrence, 22
Makeup Mishaps
"I don't like when I can see a girl's foundation at her neckline. It makes me wonder why she doesn't like the way her face looks naturally, and it's clear she wears a lot of makeup. Or at least it's clear that she can't blend her makeup into her neck so that it's not obvious." – Alex, 31
Blinding Pearly Whites
"Overly-white teeth are a turnoff for me. I know you bleached them, and it looks synthetic and unnatural. In fact, I think it makes a woman's face look harsh." -Brian, 42
Super Scented
"When a girl wears a ton of perfume, I feel like I can't breathe. If I can't taste my drink because all I can smell is whatever scent you're wearing, I'm probably not going to ask for your number." – Peter, 22
Fake Baking
"I hate when girls go out of their way to be overly tan, especially if they didn't need it in the first place. Healthy, natural skin is far more attractive." -Addison, 19
Guys, did we miss other beauty mistakes that you find as turn-offs? Girls, have you fallen victim to any of these horrid beauty mistakes?
Image: College Candy