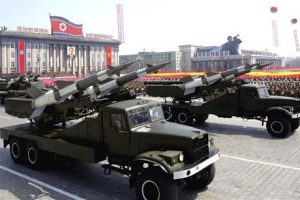 North Korea's military vowed a new and unusually specific threat to its neighbors, saying it would reduce South Korea "to ashes" in less than four minutes.
The statement, released Monday when programming was interrupted on North Korea's state TV by a special report, comes amid rising tensions on the Korean peninsula. Earlier this month, North Korea was unsuccessful in a long-range missile launch, prompting worries that North Korea may conduct another nuclear test. South Korean officials say new satellite images show that North Korea has been digging a tunnel in what appears to be preparation for a third atomic test.
According to the Associated Press, the statement from North Korea was unusual in promising something soon and in describing a specific period of time. The North Korean military threatened to "reduce all the rat-like groups and the bases for provocations to ashes in three or four minutes, (or) in much shorter time, by unprecedented peculiar means and methods of our own style."
For months the North has castigated South Korean President Lee Myung-bak and the conservative administration for insulting their leadership and criticizing a new cruise missile capable of striking anywhere in the south. South Korean officials responded, urging North Korea to end the threats.
Should North Korea's "threats" be taken seriously not only by South Korea, but also by the other countries? Let your voice be heard and type in your comments below!
Source: Yahoo News
nagImage: 3 News