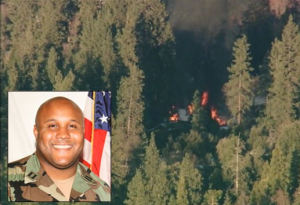 The dramatic manhunt for fugitive ex-LAPD cop Christopher Dorner, who killed at least four people, apparently ended when the rural California cabin he holed up in went up in flames, with ammunition exploding in the inferno and smoke billowing up into the mountain air.
'No official confirmation'
A source told the Associated Press that a charred body was found in rubble of the cabin.  Sources told KTTV that the body appeared to be Dorner, but there was no official confirmation.
Dorner, who hours earlier had killed one San Bernardino sheriff's deputy and wounded another before barricading himself in the cabin, in the San Bernardino mountains, was believed to be inside. Dorner, who vowed not to be taken alive, had been surrounded inside the cabin since early Tuesday afternoon. It was not clear who set the fire in the Big Bear community where Dorner apparently has been hiding since sometime last week.
'Vowed revenge'
It was a stunning end to a saga that gripped the country, and had the nation's third-largest police department on tenterhooks for a week. Dorner, a former Navy man and highly trained marksman, had vowed revenge on the department he believed had wronged him – designating specific targets for death. As flames devoured the cabin, police stood by, confident that there was no escape for Dorner, and no way he could survive the blaze – assuming he had not already taken his own life. One law enforcement source told The Associated Press a single shot was heard inside the cabin before the fire broke out.
San Bernardino Sheriff Spokesperson Cindy Bachman told reporters that they will not enter the structure until it is safe to do so.
Could Christopher Dorner still be alive? Where could he be hiding? Feel free to speculate on this massive manhunt and share your thoughts via the comment box below!
Source: Fox News
Image: ABC News