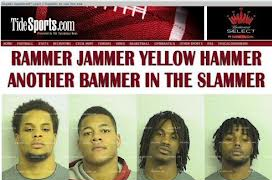 Four University of Alabama football players were arrested and charged with second-degree robbery following a pair of incidents early Monday morning. Linebacker Tyler Hayes and defensive lineman D.J. Pettway were charged with second-degree robbery while defensive back Eddie Williams and running back Brent Calloway were charged with second-degree robbery and fraudulent use of a credit card.
'Gun without a license'
According to the Tuscaloosa News, Williams and Hayes admitted to attacking a student, punching him in the head and face and kicking him in the back and rib area while he was unconscious. They stole the victim's backpack, which had an Apple laptop in it.
Williams said the group committed a second robbery where he punched the victim in the face while Pettway and Hayes watched. Williams stole the victim's wallet and used the student identification card to buy snacks from the vending machine in the football player's dorm. This is the second jail stint for Williams this week. He was charged with carrying a gun without a license on Sunday.
'Suspended indefinitely'
All four players were backups during the 2013 BCS National Championship game. Alabama athletic director Mal Moore released a statement on the matter:
"This is a very serious matter and we are very disappointed in the actions that have resulted in the charges against these student-athletes. In this type of situation, the Athletics Department works in conjunction with the University. We will have more to say at the appropriate time."
Coach Nick Saban also put out a statement, saying the players have been suspended indefinitely.
Well, what can you say about the rogue behaviors of these four Alabama players? Should they be allowed to return to the team?
Source: Graham Watson, Yahoo Sports
Image: Scout