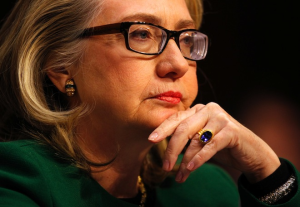 On the night of Sept. 11, as the Obama administration scrambled to respond to the Benghazi terror attacks, then-Secretary of State Hillary Clinton and a key aide effectively tried to cut the department's own counterterrorism bureau out of the chain of reporting and decision-making, according to a "whistle-blower" witness from that bureau who will soon testify to the charge before Congress, Fox News has learned.
'Complaint about Clinton'
That witness is Mark I. Thompson, a former Marine and now the deputy coordinator for operations in the agency's counterterrorism bureau. Sources tell Fox News Thompson will level the allegation against Clinton during testimony on Wednesday before the House Oversight and Government Reform Committee, chaired by Rep. Darrell Issa, R-Calif.
Fox News has also learned that another official from the counterterrorism bureau — independently of Thompson — voiced the same complaint about Clinton and Under Secretary for Management Patrick Kennedy to trusted national security colleagues back in October.
Extremists linked to Al Qaeda stormed the U.S. Consulate and a nearby annex on Sept. 11, in a heavily armed and well-coordinated eight-hour assault that killed the U.S. ambassador to Libya, Chris Stevens, and three other Americans.
'100 percent false'
Sources close to the congressional investigation who have been briefed on what Thompson will testify tell Fox News the veteran counterterrorism official concluded on Sept. 11 that Clinton and Kennedy tried to cut the counterterrorism bureau out of the loop as they and other Obama administration officials weighed how to respond to — and characterize — the Benghazi attacks.
"You should have seen what (Clinton) tried to do to us that night," the second official in State's counterterrorism bureau told colleagues back in October.  Those comments would appear to be corroborated by Thompson's forthcoming testimony.
State Department spokeswoman Jen Psaki called the counterterrorism officials' allegation "100 percent false." A spokesman for Clinton said tersely that the charge is not true.
Which side is telling the truth about the Benghazi attack? Was there really a cover up?
Source: James Rosen, Chad Pergram, Fox News
Image: Talking Points Memo