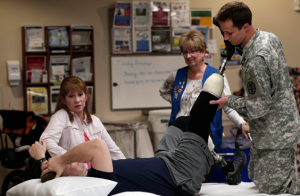 In a disturbing revelation about the treatment of America's most severely wounded troops, Fox News has learned the military earlier this month decided to invalidate meal tickets and reduce hours for the sole dining facility in the Walter Reed building where they are recovering.
'Walk, wheel or limp'
The decision affects the Warrior Cafe located inside building 62, home to all multiple amputees and long-term, recovering patients at Walter Reed National Military Medical Center in Bethesda, Md.
The decision would mean wounded warriors who would normally have a government-funded meal just down the hall would have to walk, wheel or limp nearly a half-mile across the Walter Reed campus to the temporary "food trailer" for breakfast, lunch and dinner.
'Misappropriated'
After Fox News submitted multiple inquiries with senior military officials earlier this week, the Pentagon responded late Wednesday. Lt. Col. Catherine Wilkinson, a Pentagon spokesman, told Fox News that Dr. Jonathan Woodson, assistant secretary of Defense for health affairs, has decided to reverse the changes. Yet so far, no patients at Walter Reed have been notified of that decision and there has been no formal announcement.
Officials in the Pentagon and at Walter Reed did not respond to questions about why the changes were made, but congressional sources with knowledge of the decision say it was based on concerns that government funds for the warrior meals were being misappropriated.
How should the government address this concern? Do you think the warrior meals are indeed being misappropriated? Feel free to share your thoughts and opinions with us via the comment box below!
Source: Justin Fishel, Jennifer Griffin | Fox News
Image: Free Republic