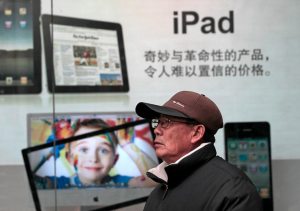 In a follow-up to developments reported earlier today, two top online shopping sites in China have removed the iPad from their web pages at Apple's request until a trademark battle between the iPad maker and Chinese company ProView is settled.
While authorities have indicated that they are "unlikely" to ban sales of the iPad, ProView contends the tech giant does not have rights to use the name in China and has had some success at seizing iPads for sale there.
A complete ban on iPad import or export, as ProView is demanding, would amount to a global ban since the majority of iPads are made in Shenzen by Foxconn. ProView also wants a $1.6 billion payment for use of the name "iPad" in China.
A district court in the country has held that ProView owns the rights to the name, but the company has fallen on hard times and is seen to be betting on the court case to save it from bankruptcy.
Both Amazon China and a Chinese site called Suning Tesco have removed references to the iPad from their webpages. The request from Apple is similar to its quick compliance with a court order in Germany that temporarily barred the sale of the iPhone and iPad over 3G patents there until the company was able to get the order reversed hours later.
Source: Digg
Image: Kotaku