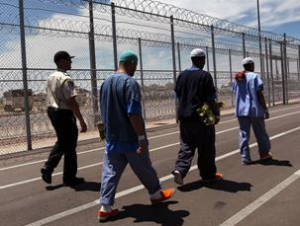 The Department of Homeland Security has started releasing hundreds of illegal immigrants held in local jails in anticipation of automatic budget cuts, in a move one Arizona sheriff called politically motivated — and dangerous.
'Safety of the public is threatened'
Pinal County Sheriff Paul Babeu said Tuesday that Immigration and Customs Enforcement released more than 500 detainees in his county alone over the weekend. A spokesman for Babeu told FoxNews.com that ICE officials have said they plan to release a total of nearly 10,000 illegal immigrants. Babeu described the move as a "mass budget pardon" and suggested the administration was going to unnecessary lengths to demonstrate the impact of the so-called sequester.
"President Obama would never release 500 criminal illegals to the streets of his hometown, yet he has no problem with releasing them in Arizona. The safety of the public is threatened and the rule of law discarded as a political tactic in this sequester battle," he said.
'Devastating impacts'
An ICE spokeswoman confirmed the plans without specifying how many illegal immigrants might be released. Spokeswoman Gillian Christensen said ICE had directed field offices to make sure the "detained population" is "in line with available funding." She stressed that ICE would continue to prosecute the cases while keeping them under supervision.
Republicans in Congress, though, have challenged the numerous Obama Cabinet secretaries warning about the devastating impact to their departments. With cuts set to take effect Friday and no deal in sight to avert them, Republicans claim the administration is trying to make the cuts seem worse than they are — some want to give the administration more leeway so that high-priority agencies don't get hit as hard.
Do you think releasing these illegal immigrants will indeed threaten the safety of the community? Feel free to air out your thoughts regarding this national issue!
Source: Fox News
Image: MSN