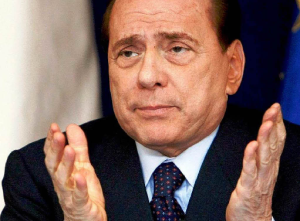 A panel of judges Monday sentenced former Italian Prime Minister Silvio Berlusconi to seven years in prison for abusing power and having sex with an underage prostitute. Judges also barred the flamboyant former prime minister from holding public office.
'Abused his position'
The high-profile case centered on an exotic dancer nicknamed "Ruby the heart-stealer." Prosecutors had argued that Berlusconi had sex 13 times with underage dancer Karima el Mahroug and abused his position when he intervened in May 2010 to get her released from jail, where she was being held on charges of theft. Berlusconi, 76, has denied the charges and others against him.
El Mahroug has said that she never had sex with Berlusconi and that she lied to him about her age, telling him she was 24.
'Colorful and controversial'
The underage sex trial verdict is the latest in a string of legal troubles the former prime minister has faced. Last month, an Italian appeals court in Milan upheld a four-year prison sentence for Berlusconi, who was convicted of tax evasion by a lower court last October. In that sentence, he was barred from public office for five years.
Berlusconi, who served on and off as prime minister between 1994 and 2011, is arguably one of the most colorful and controversial figures in the lively history of Italian politics. For years, he has been entangled in fraud, corruption and sex scandals that have often reached Italian courts.
Is Silvio Berlusconi telling the truth? Or do you still smell something fishy in this case?
Source: Hada Messia | CNN
Image: Hollywood Reporter