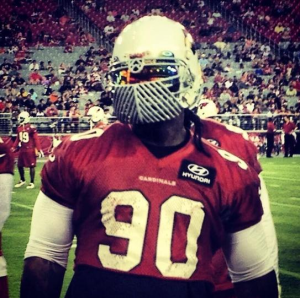 Imagine Darnell Dockett was asked how many bars he wanted on his facemask, to which he replied, "All of them."
'Design and motivation'
Of course, that kind of design draws comparisons to the other NFL player rocking bars on their facemasks. New York Giants defensive end Justin Tuck immediately comes to mind.
If you are wondering why Tuck decided to depart from the wide-open look of conventional helmets, it's to protect his neck from being twisted by players grabbing at his facemask. The design and motivation behind the facemask was covered in a 2012 report over at Giants.com. In it, Tuck pretty much foretold the future.
'Ridiculously over-designed'
"Everybody is like, 'Can I get that facemask?' No, it's exclusive to me, no one else can have it," Tuck said. "But it's a copycat league in everything people do so I wouldn't be surprised if there are a few of those floating around before we play."
Yahoo! Sports reports the grill comes by way of Bad-Ass Masks. They call this version the "Freight Train" over at their Facebook page. Brace yourselves—ridiculously over-designed facemasks are coming.
Do you like Darnell Dockett's "ridiculous" facemask? Do you think he'll wear it during the season?
Source: Gabe Zaldivar, Bleacher Report
Image: Business Insider