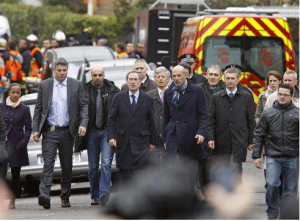 The French police siege to capture a suspected al Qaeda-trained militant came to a bloody end Thursday morning when commandos shot Mohammed Merah in the head as he fired wildly back at them, authorities said.
Merah emerged from a bathroom in his apartment and fired more than 30 shots at police as they burst in to end a standoff that had lasted more than 31 hours, Paris prosecutor Francois Molins said. He jumped out a window onto a balcony, still shooting, and was found dead on the ground, officials said. Two police officers were injured in the raid, Interior Minister Claude Gueant said. Merah had only two bullets left in his gun when he was killed, Molins said.
Merah, 23, was wanted in the killings of three French paratroopers, a rabbi and three children ages 4, 5, and 7. The shootings began March 11 and ended Monday with the slaying of the rabbi and the children at a Jewish school in Toulouse. Authorities said the young man cited a variety of reasons for the killings, including France's ban on the wearing of Islamic veils, the missions of its troops abroad and the oppression of Palestinians.
Police found video recordings of the attacks, ammunition and ingredients for explosives after he was killed, Molins said. In the video of the first shooting of a French soldier in Toulouse, Merah told the soldier, "You kill my brothers, I kill you," Molins told reporters. Another video shows Merah gunning down two more French soldiers in Montauban. He is heard saying "Allahu Akbar," or God is great, Molins said.
After Merah's death, French President Nicolas Sarkozy said everything had been done to bring him to justice alive.
Source: CNN
Image: USA Today