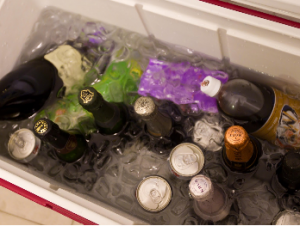 The heat of the summer is upon us. And I'm sure I'm not the only one asking: What's the fastest way to chill a drink?
Fridge
Depending on the starting temperature, cooling drinks in the fridge takes anywhere from 45 minutes to 2 hours. Not nearly fast enough when you're parched.
Freezer
To speed the process, you can wrap a wet paper towel around them and stick them in the freezer. That's faster — like 20 minutes. And the physics of the wet paper towel is pretty interesting. It works the same way that perspiration cools you down: evaporation draws the heat away from your skin — or away from your drinks. Just don't let your drinks freeze all the way. But 20 minutes is still too long.
Ice water
Putting your drinks in a bath of ice water chills them even faster than a freezer. Why? Because water conducts heat more easily than air. Compare sitting around in a 68-degree room to sitting around in a 68-degree tub and you'll quickly see what I mean.
The Solution
I had read that putting salt in the ice water can chill your drinks even faster. Why would this work? Salt water has a lower freezing point than fresh water (which is why salt is often put on roads to prevent icy conditions), and adding salt to a bowl of ice water actually decreases the temperature of the water.
What is your preferred way of chilling your drinks? What is your favorite summer drink? Share your refreshing ideas with us in the comment box below!
Image: Life of a Lil Notty Monkey