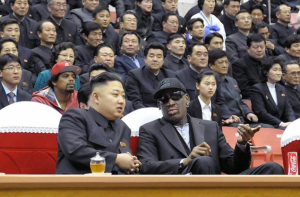 Dennis Rodman has just returned from a "basketball diplomacy" mission with the most mysterious communist state in the world — North Korea. And just like that, he gushes with compliments for that country's leader, Kim Jong Un.
"I love him. The guy is awesome. He was so honest."
'Threatens war with its nuclear power'
As much as we'd like to think the flamboyant Rodman has been successful in bridging the gap of hostility between his mother country and NoKor, we cannot erase the fact that the latter is home to a leader who threatens war with its nuclear power and starves citizens in prison camps.
Still, we have to give credit to "The Worm" for being able to get up close and personal with the young dictator without having to creep around. He just walked in with the Harlem Globetrotters and Vice magazine and voila! He beat the secret services to getting thisclose to Kim Jong Un. Isn't that quite an achievement for a retired NBA champion?
'Perfect candidate'
In an interview with George Stephanopoulos on ABC News' "This Week," Rodman was seemingly apologetic when it came to his friendship with the young dictator.
"I don't condone what he does, but as far as a person to person, he's my friend" and then went on to the fetid well of moral equivalence to dismiss the prison camps and reports of mass murder as "just politics."
They say Dennis Rodman was just the perfect candidate for that task. He alone can pull off this kind of stunt. And they say maybe his "diplomatic visit" can indeed forge a meeting ground for the U.S. and North Korea. He even dished out a "diplomatic advice" to President Barack Obama — that the president can start with basketball to establish a bond with NoKor. Would that be effective?
Despite all these reasonings, the boundary between diplomacy and hostility is still not quite clear. So, do you think "basketball diplomacy" is really possible between the U.S. and North Korea?
Image: NY Daily News