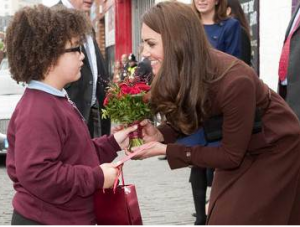 The Duchess of Cambridge proudly disclosed the notoriously shy Prince's romantic gesture as she carried out her first full day of public engagements without him. But far from pining for her husband, who is on a six-week tour of duty in the Falklands, the 30-year-old proved that she was more than capable of carrying out royal duties alone.
The Duchess, wrapped up in a chestnut brown woollen coat from Hobbs, was certainly not short of a little love as she arrived at Liverpool's Alder Hey Children's Hospital, where large crowds cheered, waving heart shaped balloons and Union flags. She beamed with delight as she gathered up armfuls of flowers, cards and gifts as hundreds wished her a happy Valentine's Day, her first as a married woman.
Eight-year-old admirer Jaqson Johnston-Lynch took advantage of her husband's absence by presenting her with a Valentine's Day card, in which he had written: "Dear Kate, Happy Valentine's Day. I love you, Jaqson" and a cupcake iced with the words "Jaqson loves Kate".
He told her: "I am sorry Prince William cannot be here."
Although her career as a working royal has barely begun, the Duchess proved her ability to connect with the wider public as she listened intently to the story of recovering alcoholic, Rachel Lyons.
"It just felt wonderful that the future Queen was sitting in front of me and I could tell her my story," she said. "It seems she was really interested in what I had to say. It is amazing what she is doing for Action on Addiction. It is a great thing, and it saves lives. She is fabulous."
Source: The Telegraph
Image: ABC News