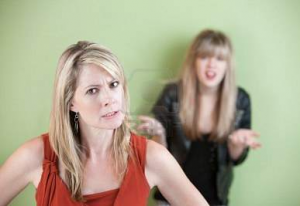 A simple remark by a well-meaning friend to a new mom could hurt her self-confidence. Team Mom asked the experts about the impact that such comments could have on a mom. Here's what they had to say:
"You're so dressed up!" Psychologist and mom of two, Elizabeth Lombardo, Ph.D., tells Team Mom on Shine that the mom could interpret your statement as: "You always look like a slob…" She recommends that if you want her to know she looks pretty, say so: "You look great!" or "Doing anything fun today?"
"You must really want a girl."  Amy Williams, a mom of two boys and founder of BoyMom Designs, says sometimes people would make these comments in front of her other son. Her advice is to focus on the fact that a woman is having a baby, which is wonderful on its own. She wishes her friends would have said, "Congratulations, two boys!"
"When did you get so gray?"  Are you trying to tell your friend you notice that she looks different? Or are you worried about her? Tell her. Because the mom hears something totally different, says Dr. Lombardo: "You look terrible; you really let yourself go. She thinks 'I used to take care of myself before the kids. Now I have no time. I am just a mess…'"
"When are you due?" Before you ever ask any woman when she's due, ask yourself if she's actually told you that she's pregnant. If the mom is not pregnant, you've just reminded her that she hasn't lost her baby weight from a previous pregnancy. Or what if she's gained weight because of health issues that you weren't aware of? Try this: Don't say anything.
"When are you going back to work? The implied statement under this question is that being at home with the kids isn't work, and strikes at the heart of mommy wars. You're setting up a mom for failure for failure. If you're really just interested in finding out what your mom friend is up to, focus less on her employment situation and more on her, as a person (e.g., "What have you been up to?").
Let's hear from the moms! Have you received other remarks from friends that really ticked you off?
Source: Yahoo News
Image: 123 RF