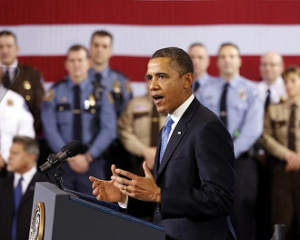 President Barack Obama did some cherry-picking Tuesday night in defense of his record on jobs and laid out a conditional path to citizenship for illegal immigrants that may be less onerous than he made it sound. A look at some of the claims in his State of the Union speech and how they fit with the facts:
'New jobs'
OBAMA: "After years of grueling recession, our businesses have created over 6 million new jobs."
THE FACTS: Obama starts his count not when he took office, but from the point in his first term when job losses were the highest. In doing so, he ignores the 5 million or so jobs that were lost on his watch, up to that point. Private sector jobs have grown by 6.1 million since February 2010. But since he became president, the gain is a more modest 1.9 million.
___
OBAMA: "We have doubled the distance our cars will go on a gallon of gas."
THE FACTS: Under a deal the Obama administration reached with automakers in 2011, automobile manufacturers won't start making changes to achieve the new fuel economy standards until model year 2017.
OBAMA: "Already the Affordable Care Act is helping to reduce the growth of health care costs."
THE FACTS: The jury is still out on whether Obama's health care overhaul will reduce the growth of health care costs.
___
'Earned citizenship'
OBAMA: "Real reform means establishing a responsible pathway to earned citizenship — a path that includes passing a background check, paying taxes and a meaningful penalty, learning English and going to the back of the line behind the folks trying to come here legally."
THE FACTS: Like those living abroad who have applied to come to the U.S. legally, illegal immigrants who qualify for Obama's proposed path to citizenship will surely face long waits to be processed. But during that time, they are already in the U.S. and will get to stay, work and travel in the country under their new status as provisional immigrants, while those outside the U.S. simply have to wait.
Were you satisfied with Obama's State of the Union Speech? Feel free to share your thoughts on the points highlighted.
Source: Calvin Woodward, Associated Press, Yahoo News
Image: International Business Times