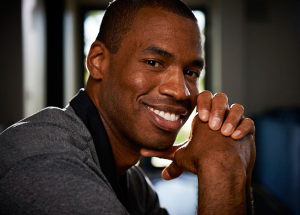 Jason Collins, most recently of the Washington Wizards, has openly admitted that he is gay. Through an article he wrote for Sports Illustrated Monday, Collins became the first male athlete in the history of (major) American sports to come out of the closet while still playing in that particular league:
'I'm different'
I'm a 34-year-old NBA center. I'm black. And I'm gay.

I didn't set out to be the first openly gay athlete playing in a major American team sport. But since I am, I'm happy to start the conversation. I wish I wasn't the kid in the classroom raising his hand and saying, "I'm different." If I had my way, someone else would have already done this. Nobody has, which is why I'm raising my hand.
'Still the same player'
Though he is an unrestricted free agent, the Wizards organization released a statement commending Collins for his decision to live "proudly and openly." The NBA and David Stern released a statement of their own in conjunction with Collins' announcement, emphasizing how proud they were that he has elected to become a pioneer.
Toeing along the same line, Jason Kidd of the New York Knicks reiterates that the news doesn't change anything about the kind of person Collins is. And it shouldn't. He's still the same player, person and friend he has always been.
Who do you think will be the next athlete to come out in public? Tell us why sexuality is such a big deal in sports!
Source: Dan Favale, Bleacher Report
Image: Sports Illustrated