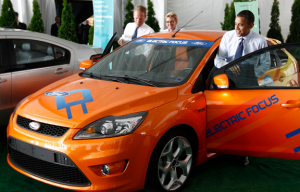 A Michigan hybrid battery plant built with $150 million in taxpayer funds is putting workers on furlough before a single battery has been produced. Workers at the Compact Power manufacturing facilities in Holland, Mich., run by LG Chem, have been placed on rotating furloughs, working only three weeks per month based on lack of demand for lithium-ion cells.
The facility, which was opened in July 2010 with a groundbreaking attended by President Barack Obama, has yet to produce a single battery for the Chevrolet Volt, the troubled electric car from General Motors. The plant's batteries also were intended to be used in Ford's electric Focus. Production of the taxpayer-subsidized Volt has been plagued by work stoppages, and the effect has trickled down to companies and plants that build parts for it — including the batteries.
The 650,000-square-foot, $300 million facility was slated to produce 15,000 batteries per year, while creating hundreds of new jobs. But to date, only 200 workers are employed at the plant by by the South Korean company. Batteries for the Chevy Volts that have been produced have been made by an LG plant in South Korea. The factory was partly funded by a $150 million grant from the U.S. Department of Energy.
Randy Boileau, a spokesperson for LG Chem in Holland, told FoxNews.com that battery production is expected to pick up once Volt assembly lines in Detroit resume production on Oct. 15. He said the facility has spent the past two years building infrastructure and conducting pre-production "test runs." Boileau pointed out the workers who are on furloughs one week a month are eligible to collect unemployment for that week, and he said the company covers the contributions to their individual benefits during the period.
Do you think sales of electric cars will be able to pick up soon? Would you switch to an electric car? Feel free to share your thoughts and opinions with us regarding this issue!
Source & Image: Fox News