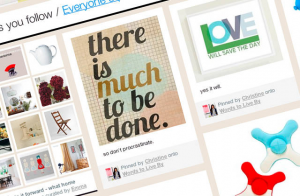 What if there was a free way to market your hobby, in order to gauge interest, build an audience—and possibly, make money in the process? There is, and it's called Pinterest. This site gives ripe opportunity to transform your finances and career. Here's how:
The Pinterest boom. Your first step is to get on the wait list — or ask a friend using it to "invite " you to register.  But once you're "in," you can start to build exposure for your hobby, by transforming images that you currently have on your site or desktop, into "pins."
Create original pins. To best way to drive traffic to your site is to create as many compelling, original pins as possible. For starters, new pins are shown on the home page of Pinterest, providing endless possibility for exposure.
Turn your passion into imagery. Showcasing your work with "pins" is easy to accomplish, but if your hobby isn't as visually driven, you'll need to get creative to transform what you "do" into imagery. What you "pin" is up to you but the more interest it capture, the greater the exposure.
Make your site "pin" friendly. You can simplify the process further by adding a red "Pin It" button to your site pages and posts. (Visit the "goodies" section on Pinterest for instructions). Once you've taken those steps, developing a Pinterest presence for your hobby may not require much intervention at all.
Be active. Generating your own pins and repinning images that represent your interests is just one piece of Pinterest. The other is based on social sharing. The larger your "network," the more attention you'll potentially grab.
Know your audience. Hobbies are based on passion; communicate that interest through your pins and board. You may just stumble into an opportunity to transform your professional and financial life.
Source: Digg
Image: Digital Trends