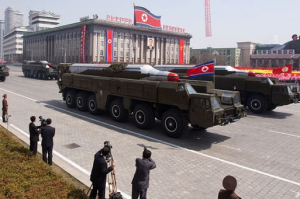 The Pentagon's intelligence arm has assessed with "moderate confidence" that North Korea has the ability to deliver a nuclear weapon with a ballistic missile, though the reliability is believed to be "low."
'Surprise development'
Disclosed first by a congressman at a hearing on Thursday and then confirmed to CNN by the Defense Department, the assessment by the Defense Intelligence Agency is the clearest acknowledgment yet by the United States about potential advances in North Korea's nuclear program.
The surprise development comes amid heightened tensions on the Korean Peninsula. North Korea has unleashed a torrent of dramatic threats against the United States and South Korea in recent weeks, including that of a possible nuclear strike.
Pentagon spokesman George Little said later Thursday, "It would be inaccurate to suggest that the North Korean regime has fully tested, developed, or demonstrated the kinds of nuclear capabilities referenced in the passage" of the DIA study.
'Capable of delivery'
That stance was echoed by James R. Clapper, director of U.S. national intelligence, who said the statement read by Rep. Doug Lamborn "is not an intelligence community assessment. Moreover, North Korea has not yet demonstrated the full range of capabilities necessary for a nuclear armed missile."

Lamborn, R-Colorado, read from a declassified version of the DIA assessment at a House Armed Services Committee hearing, "DIA assess with moderate confidence the North currently has nuclear weapons capable of delivery by ballistic missiles, however, the reliability will be low."
Reliability is apparently a reference to the accuracy of the missiles. It is was not clear whether other U.S. intelligence agencies, such as the CIA, agree with the defense analysis.
Do you think North Korea is capable of launching a nuclear missile? And will a war erupt soon?
Source: Jethro Mullen. Barbara Starr and Joe Sterling, CNN
Image: The National Turk