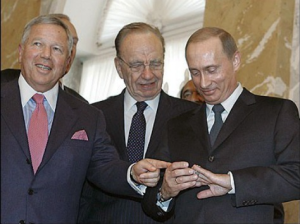 New England Patriots owner Robert Kraft told people for years that he gave Russian president Vladimir Putin one of his Super Bowl rings, but according to a report from the New York Post, Putin actually stole the $25,000 ring.
'Diamond-encrusted'
Kraft explained the incident to those in attendance at Carnegie Hall's Medal of Excellence gala, saying, "I took out the ring and showed it to [Putin], and he put it on and he goes, 'I can kill someone with this ring.' I put my hand out and he put it in his pocket, and three KGB guys got around him and walked out."
While the Patriots owner continued to tell officials that he wanted his personalized 4.94-carat diamond-encrusted ring back, the White House reiterated that it would be best to claim it was a gift and leave it at that. Kraft obviously still wants his ring back after all these years, but it is still reportedly in the possession of the Russian people in the Kremlin library.
'Re-tells for laughs'
The Patriots have released a statement around the story, saying that it's just a funny story Kraft likes to tell, per NFL.com.
"It's a humorous, anecdotal story that Robert re-tells for laughs," Pats spokesperson Stacey James said. "He loves that his ring is at the Kremlin and, as he stated back in 2005, he continues to have great respect for Russia and the leadership of President Putin. In particular, he credits President Putin for modernizing the Russian economy. An added benefit from the attention this story gathered eight years ago was the creation of some Patriots fan clubs in Russia."
Should Vladimir Putin just give that Super Bowl ring back to Robert Kraft? Feel free to pitch in your thoughts regarding this latest sports issue! Let your voice be heard via the comment box below!
Source: Donald Wood, Bleacher Report
Image: Breitbart