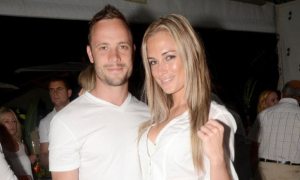 South African athletics star Oscar Pistorius has denied murdering his girlfriend, saying he shot her by mistake thinking she was an intruder. He told a packed bail hearing in Pretoria that he loved Reeva Steenkamp and had never intended to kill her.
'Premeditated murder'
Prosecutors accuse Mr Pistorius of premeditated  murder.The case has shocked South Africans and many around the world who admire Oscar Pistorius for overcoming adversity to become a Paralympic champion.
Defence lawyer Barry Roux read a sworn statement from Mr Pistorius, saying the couple had been "deeply in love". The couple went to sleep shortly after 22:00, the statement said. In the middle of the night, Mr Pistorius woke up and went to the balcony because he thought he had heard an intruder, it added.
"It was pitch-dark in the bedroom. I did not have my prosthetic legs on and felt extremely vulnerable."
'Died in my arms'
According to the statement, Mr Pistorius thought Ms Steenkamp was still in bed, and he fired through the bathroom door, believing he was shooting at a robber. When he realised Ms Steenkamp was not in the bed, "it filled me with horror and fear", it said. Mr Pistorius broke the door down to find his girlfriend shot inside.
"She died in my arms," the statement said. "I am absolutely mortified at the death of my beloved Reeva".
The hearing was later adjourned until Wednesday. Meanwhile, the private funeral for the 29-year-old model and law graduate was held in her home town of Port Elizabeth.
What is your view regarding the tragic death of Oscar Pistorius' girlfriend? Premeditated murder or just a horrible accident?
Source: BBC News
Image: Radio Times