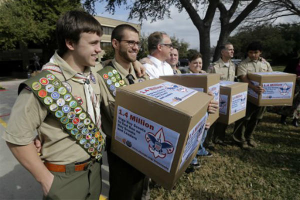 Openly gay youths will be allowed to join scouting, a historic decision the Boy Scouts of America says will keep it unclouded by "a single, divisive, and unresolved societal issue."
'Sexual conduct'
More than 60% of the group's 1,400-member national council voted Thursday at an annual meeting in Grapevine, Texas, for the change, which takes effect Jan. 1.
"No youth may be denied membership in the Boy Scouts of America on the basis of sexual orientation or preference alone," says the resolution.
The BSA, however, will maintain its ban on gay adult leaders.
"The resolution also reinforces that Scouting is a youth program, and any sexual conduct, whether heterosexual or homosexual, by youth of Scouting age is contrary to the virtues of Scouting," the 103-year-old organization said in a statement after the vote.
'To serve every kid'
BSA President Wayne Perry said the vote came after "an extensive dialogue within the scouting family (that) was exhaustive and … very respectful."
"No matter how you feel about this issue, kids are better off in scouting," Perry told reporters. "Our mission is to serve every kid."
Reaction from interest groups to Thursday's vote was swift. The Human Rights Campaign said the BSA took a "historic step forward." Scouts for Equality and GLAAD lauded the BSA's "commitment to creating a more inclusive organization."
Conservative groups and some religious organizations argued against making any change in the membership policy, saying it would dilute the Boy Scout message of morality and potentially destroy the organization.
Are you for or against the Boy Scouts' decision to allow openly gay youths to join? Why or why not?
Source: Phil Gast. Greg Botelho and Devon M. Sayers, CNN