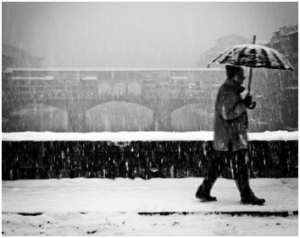 Being Italian may be bad for your health. Being British could be fatal.
My four and six-year old Anglo-Italian children want to play outside in our garden in London early morning at the end of November. The kids are dressed in flimsy cotton pyjamas. But my British partner doesn't hesitate to open the back door and let them out.
I yank them both back in and bundle them in padded jackets, thick socks, boots, hats, and scarves. Oh, and gloves. Just to be sure. Then again, as anglicised as I am after decades of living here in London, I clearly haven't turned completely British yet either.
Growing up in Italy, I was told repeatedly by Italian family and friends that the cold can kill you. In any case, it is not just an Italian ailment. I spent time in Indonesia too when I was younger. There they call it "masuk angin", or "the entry of air", an affliction which shares many similarities with Italy's "colpo d'aria".
As a child, there was a definite downside to this Italian obsession with health. Summers on the beach for instance. Swimming after food was a complete no-no. We were fed horror stories about children who had disobeyed the no-swimming rule, only to be hit by intestinal cramps in the water. This meant the hottest part of the day – the hours after lunch – were spent sitting on the beach watching the foreign kids frolic in the surf. A full meal required a three hour no-swimming rule. A couple of biscuits might set you back half an hour. Every minute counted.
Source: BBC News
Image: Italylogue.com