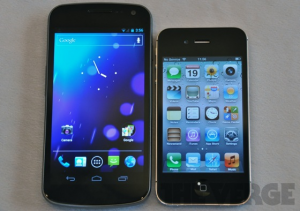 As you might have heard, Apple is claiming that the new Nexus phone from Samsung and Google infringes on some of its copyrights. Specifically, the way that Google's Jelly Bean OS displays search results on one screen, pulling the information in from multiple sources. Doesn't make sense to me, either.
Samsung is fighting back of course, and asked the judge in the case to lift the ban on the sale of the Nexus in the U.S., but was rejected. The iPhone 5 will be coming out soon, and I have no doubt that it will once again reinvent the way we think about mobile phones, just like the first one did. After the next iteration of the phone comes from Apple, I'm sure that companies like Google and Samsung will again go to the old drawing board to come up with their next version.
I see this whole copyright case as nothing more than an expensive game of block-and-tackle, though. Apple gets to block the release of one of the best, if not the best, phone and OS combinations, and gets to release its next-gen version with a clear runway. It's business, but it sucks for consumers. If the Nexus did catch on with some people, it would most definitely cause some disruption in Apple's plans, which is what competition is all about. Instead, sending this all to a court for litigation limits everyone else's opportunity to truly innovate.
If Apple wants to protect its IP, that's fine, and that's America. If Apple wants to be the best, it should just focus on making the best, and let the consumers decide.
Let the battle of the smartphones begin anew! Do you agree that the more Nexus is banned, the more people want to have it? Which brand do you prefer — Apple or Samsung?
Source: Digg
Image: Phillihp's Tech Blog