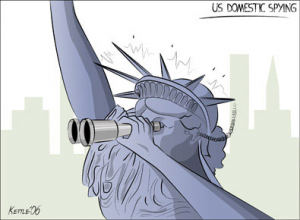 Right now, the U.S. government is tracking the movements of private citizens by GPS, reading private citizens' emails, and possibly even reading what you're saying on Facebook. It does so all in the name of law enforcement and Homeland Security, of course — but whether or not that makes you feel safer is up to you.
1. The NSA is building a massive data center in Utah to read every email you'll ever send.
If leaked information about the complex is correct, nothing will be safe from the facility's reach, from cell phone communications to emails to what you just bought with your credit card. And encryption won't protect you — one of the facility's priorities is breaking even the most complex of codes.
2. The FBI maintains detailed files on numerous public, semi-public, and private figures.
If you're curious about what goods the FBI has on you, you can always submit a request to view your own personal file. It is worth noting, of course, that the government doesn't profile everyone — just certain people of interest.
3. Homeland Security is reading your tweets and Facebook status messages.
Unless you play around with your Twitter and Facebook privacy settings, just about anything you say is public. Essentially, the government wants to read through your tweets and status messages to see if there's any information that might help in detecting threats.
4. Your ISP may soon be required to keep files on what sites you visit.
That's exactly what the Hawaii state legislature proposed this January with H.B. 2288 and companion bill S.B. 2530. The bill, sponsored by State Rep. John Mizuno (D), "requires internet service providers… keep consumer records for no less than two years." The bill then goes on to specify that these records must include "each subscriber's information and internet destination history information." Thankfully, the bills' sponsors withdrew the offending legislation from debate.
Do you think all the hustle about online data monitoring is necessary or is it just an invasion of privacy? Share your opinions with us!
Source: Yahoo News
Image: UnDebunked