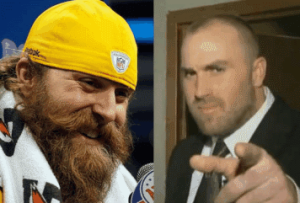 The most famous beard in the NFL is again no more as Brett Keisel held his annual "Shear Da Beard" charity fundraiser on Thursday night. The Pittsburgh Steelers defensive end has held the event for three years running and each has culminated with the shearing of a beard he's started and not touched since the start of the previous season.
'Taken aback'
But while Keisel's charitable cutting is almost becoming routine, there was at least one person in Thursday's crowd that was really taken aback by the dramatic change on the two-time Super Bowl champion's mug.
From Steelers.com:
A clean-shaven Keisel took the stage to "Sharp Dressed Man," unrecognizable to many, including his two-year old daughter Grace.



'Who is that'
"My daughter came in the door and she was like who is that. I don't know him," said Keisel. "I had to get my voice out to her and make sure she realized it was me talking to her. She finally warmed up to me."

Shear Da Beard benefited the cancer programs at Children's Hospital of Pittsburgh at UPMC, with the money going towards the continued research the hospital does as well as various programs.
Which Brett Keisel look do you like better — with or without the beard? Tell us about your favorite athletes who loyally support charities!
Source: Kevin Kaduk, Yahoo Sports
Image: Zimbio