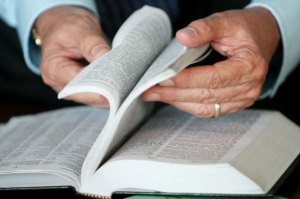 A new Bible translation tackles the challenge of turning ancient Greek and Hebrew texts into modern American English and then adds a twist: It's written like a screenplay. That's pure Hollywood, but the team behind "The Voice" says it isn't a gimmick. They hope this new version will help readers understand the meaning behind the sometimes archaic language of the Bible and enjoy the story enough to stick with it.
The idea was a longtime dream of Chris Seay, pastor of Houston's Ecclesia Church. Seay had had success in helping church members relate to the Bible by dividing out the parts of the various speakers and assigning roles to church members who read them aloud. The idea struck a nerve with Frank Couch, the vice president of translation development for Nashville-based religious publisher Thomas Nelson, who had performed Bible-inspired sketches on the streets of Berkeley, Calif., in his youth.
The result of their efforts, as well as a team of translators who worked alongside poets, writers and musicians, is "The Voice," released in its full version earlier this year. "The Voice" not only reformats the Bible but also inserts words and phrases into the text to clarify the action or smooth transitions. These words are generally in italics so the reader can tell what the additions are. At other points, the order of verses is changed to make the story read better.
Some earlier attempts to make the Bible accessible to a modern audience met with heavy criticism from people who thought the translators were taking too many liberties with the word of God, Wake Forest University Religion Professor Bill Leonard said. But those translators were attempting to deal with a real problem — increasing Bible illiteracy, even among those who attended church regularly, he said.
And for the average reader, unaware of the sometimes contentious debates over translation, "The Voice" seems to have struck a chord. Getting readers to feel engaged in the story is exactly what the creators of "The Voice" had in mind, Couch said.
Are you in favor of the screenplay format of  the Bible translation "The Voice"? Feel free to share your thoughts with us!
Image: Rapid City Journal